Course type Elite boarding school (starting year 8)
Name

Private Boarding School

Duration One year

Class size Max. 14 students

Intensity Full time

Availability Starting autumn 2020

Accommodation Room on campus

Catering provision Full board

Leisure programme Leisure programme included

Institute Boarding schools in England

Price up to - 40% on school fees

Price - 40%
A school year at an English boarding school
Tradition and Modernity
A stay at a boarding school in England or Scotland can add real momentum to a child's development. They broaden their horizons, meet new friends and become at home in a new culture and a foreign language. An extended stay such as this promotes independence and responsibility.
Tradition and modernity are combined in a unique way in British boarding schools. Historic boarding schools with centuries of tradition use modern teaching methods and well-equipped classrooms to provide first class tuition in a wide range of subjects. Full-time schooling combines academic and extracurricular activities in a special way. A stay at a boarding school will provide your child with the necessary English skills for their academic and professional future. In addition, the structured learning environment will encourage personal development and allow them to experience an entirely new way of studying.
Expert assistance in selecting the right boarding school for your child
Our team has been helping families to find the best boarding schools in Britain and Ireland for more than twelve years. We have specialist knowledge of British schools, gained not only through our extensive experience as education consultants, but also through our complete understanding of how the British school system operates. Our focus is always on you, on the families and on the young people themselves. Once we know your wishes, expectations and requirements, we can present the best and most appropriate choice of schools to you. Whether you are looking for a private or a state boarding school, for accommodation on the school grounds or in a host family, to stay for a single term or to sit your final exams, we will guide you step by step throughout the decision-making process and will always be available to answer your questions.
Finding the right school
The choice of schools is huge, but not all of them will be right for your child. That's why our assistance is so important. We have already placed pupils in around 50 different boarding and day schools in Britain and Ireland, and have close contact with many other schools. Alongside their exceptional education programmes, these schools offer many extra-curricular activities. They support children's gifts for sports, music, art and drama and offer extra language support for international students. As we select the schools for your child, we will take into consideration the desired length of stay, the size and location of the school, your child's individual talents and academic goals, the extra-curricular activities on offer, the school fees, and anything else that is important to you.
The British school year
The three terms of the British school year
A school year in England and Scotland is divided into three terms, each of which is between 9 and 12 weeks long:
Autumn term – September to Christmas
Spring term – January to shortly before Easter
Summer term – Easter to the beginning of July
Ideally, a stay will start at the beginning of the Autumn term. However, there is a high demand for places at this time. Consequently, it can be sensible to join the school at the beginning of the Spring or Summer term instead.
International Baccalaureate and A-level qualifications
An internationally recognized school-leavers' qualification
Of course it is possible for pupils to take school-leavers' exams at their English or Scottish boarding school, either instead of or in addition to the final exams of their home country. The most important exams to know about are:
The English "General Certificate of Education at Advanced Level" (GCE A-Level) These are sat after 13 years in education. The certification can be recognized by German universities if certain subject combinations are taken.
The International Baccalaureate (IB). This is offered by some British schools, and gains wider international recognition because a broader range of subjects are studied.
M. Surbeck's feedback:

Our daughter felt very happy and learned a lot, especially the language, but other things too.
The classes were very disciplined, but the teachers were exceptionally friendly and personal. Additionally, many excursions and activities were offered, really great! Our daughter received a detailed certificate and a personal report from every teacher, which was very nice for our daughter and for us as parents.
J. Wingenfeld's feedback:

I have no criticism, I just want to say thank you.
My son has been attending a boarding school for more than two terms now, largely thanks to your help beforehand, and is very enthusiastic. Because of this he wants to complete the summer term in England before returning to a German school to do his Abitur.
S. Konstantinidis' feedback:

I really enjoyed the three months there, it was a great experience.
I was immediately included and felt like part of the boarding family. Because of the small number of students, it was possible to do a lot of experiments and to ask a lot of questions. The large number of subjects, sports and social activities on offer leave no time for boredom. In addition, I made a lot of friends, with whom I am still in close contact and want to see again as soon as possible.
C. Rodde's feedback:

Our son is back from the boarding school since July - and he was delighted.
As a parent I have a fantastic impression of his school year, as well - some spontaneous thoughts: Almost only full boarders, almost only native English speakers, sense of unity at the school, very regular and informative feedback by the school. I want to once again thank you for the exceptional consultation before the stay.
J. Lozano's feedback: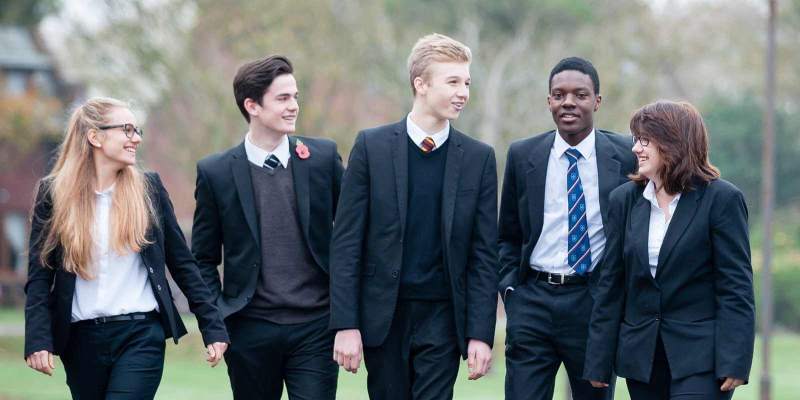 Our daughter felt very comfortable at the boarding school, so much that she did not want come back home.
She was very well received and found friends for life. The atmosphere and the interaction between teachers and students must have been very pleasant. Overall the complete package was just right. Accommodation, offers, atmosphere and care were outstanding. We can recommend the school without exceptions.
N. Horstmann's feedback: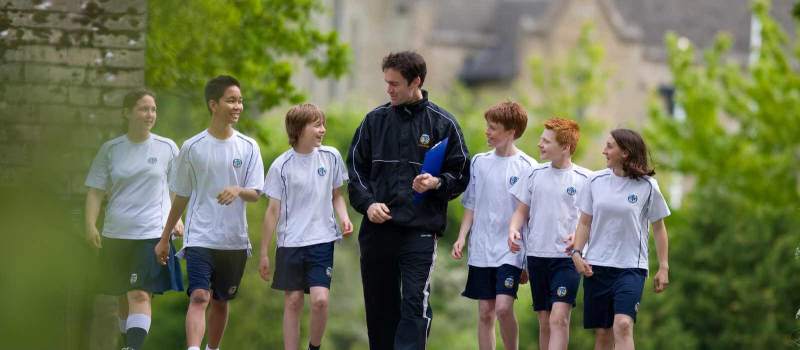 Our son felt exceptionally well and in good hands at the school, he experienced a great unity with other boarders and the school staff.
There really is nothing to complain about: He does well at school and his English skills already improved significantly and the mentoring is exceptionally well. The sports and social activity programme at the school is outstanding as well and versatile. My husband and I want to thank you for the great care by any means. We have never liked booking packages and prefer individual possibilities. In that sense your agency's service was exactly the right thing for us.
A stay at a boarding school in Britain or Ireland
Key facts about a term or a school year at boarding school
A stay at a British boarding school can motivate a child, encouraging the development of responsibility and self-confidence. Most of our former students still talk excitedly about their experiences even many years on.
A stay at a boarding school will give your child not only the required English skills for their academic or professional future, but also the chance to develop themselves and to experience a new way of learning.
We specialize in English language schools and benefit from both our long experience as education consultants and our expert knowledge of Britain and the British school system.
The choice of schools is huge, but not all of them will be right for your child. That is why our assistance is so important. We have already placed pupils in around 50 different boarding and day schools in Britain and Ireland, and have close contact with many other schools.
If you wish your child's academic certifications to be recognized in your home country, you must ensure that they select the appropriate subjects and sit the appropriate exams for this to be possible. Naturally, we are fully able to assist you in this.
Interested in our service?
...take the next step: